Copenhagen Area Zone Map
Below is a zone map of the Copenhagen, Denmark transportation system. The map is an important part of the transportation system and learning how to read the various zones is vital to knowing what type ticket to buy or use when traveling.
You will be better off downloading a printable copy of the Zone Map below to read, but if you can not do that, than hopefully you can follow along with the one below. The zone numbers are in white, so I apologize for the quality, but hard to get a better resolution.
Once you have downloaded a hardcopy of the map, you should go to the zone guide which will explain in detail what zones are and why they are important. Take the time to understand this and it will make your use the transportation system in Denmark 100% easier!
Download a Copenhagen zone map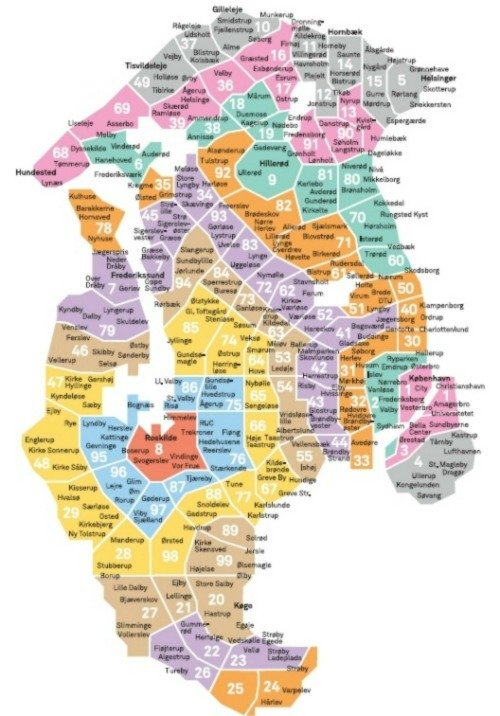 You can download a clearer map as a pdf file by right clicking Zone Map and choosing "save as".
Now you will have a map which is easy to follow along with as you read the transportation guide. Soon you will become an expert at navigating the various zones. There is a new updated interactive zone guide by Movia, but before using it, go through the zone tutorial.
You can get a hard copy at the train stations, if you ask at the counter nicely. They are also found some brochures found at the tourist offices. They are also on the walls at the train station platform and on stands near the ticket punch machines, at many of the bus stops ( not all, but most). Keep your eyes peeled and you will begin to notice them all over!
A quick overview of the map is as follows: The zones are divided by the white lines and include white numbers. The white numbers are the name of that zone. The higher the zone number the further away from central Copenhagen (some exceptions). All the names written in black are the name of stations in that zone. They DO not include names of all the bus stations, just train and metro stations.  Now by looking at the map, you can tell which zone a train station is in. On the original map you can see the map is divided into colors, which form a single zone ring.
Continue on the zone tutorial or learn more about other aspects of transportation in Denmark.

If you found this page helpful, please give a google+ and or a facebook like at the top of the screen, so others can also find this information. Thank you.
Please feel free to comment on this subject
Do you have a helpful tip or comment on this subject that you would like to share? Please leave comments below.