Understanding the Zone Calculator
(this feature is not hosted any longer)
Unfortunately, DSB and DOT have stopped hosting this zone calculator, yet I am keeping this page up in the hope that it can still help some with comprehending the ends and outs figuring out your zones.  The new rejsekort site has a feature that lets you put in your start and finish points and gives you the ticket amount and number of zones you will be traveling through.
Learning how to use the zone calculator is the best way to be assured that you are using the right ticket and will avoid an unwarranted fine.  It is best to use this to figure out how many zones you need for a  ticket. This system does also apply to monthly passes, since you to know how many zones you will be regularly traveling in before ordering your pass.
Before getting started, you might to check out the movia site which hosts the calculator. Than come back and let me show you how to use the zone calculator. On the keyboard as seen below, you choose the zone you are starting from.
For example if you plan to leave from Kastrup Airport, it is in Zone 4. When you click on the 4, you will get a PDF download. this you can download to your computer or print it out.
Now this chart will show you how many zones you are traveling in and what type ticket you have to purchase.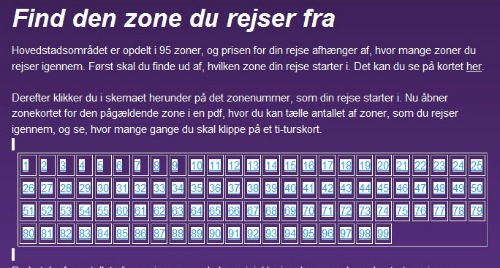 This will be easier to follow if you download your own pdf file. But below is the zone map for leaving in Zone 4 (using Kastrup airport as the example). Note you can tell which zone card you are using by checking the large number in the upper right corner. This one has a large 4. See how each zone has a different number, but many of the zones have the same color.
If you find Ishøj, which is located in zone 55, directly west of the zone 4, you can see it is colored orange. Yes, the color distinction is not very good.
See the example below.
*Practice using the zone calculator and it will become second nature very quickly.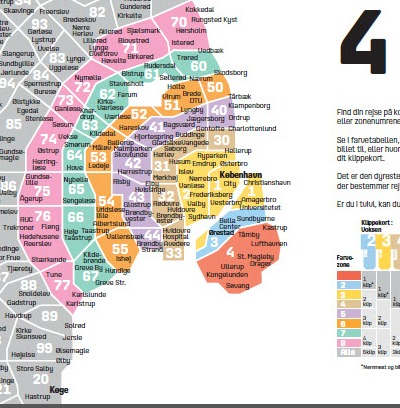 In the lower right corner of your file you will see a chart similiar to one below. If you look at the top line and find the orange klippekort symbol it will have a number 6. That means you need a 6 zone klip.
The graph on the left will tell you how many klips you need depending on the type of klippekort you have. Please do not follow that too closely, because they are misleading you here.
If you are going to travel in 6 zones, do not klip 2 times on a 4 zone ticket. That is a waste of money. It would still be valid but you would be overpaying - why would anyone want to do that.
Zone Calculator / Klippekort
That means you used a 8 zone ticket ( 2 x 4 zones = 8 zones) to travel on only 6 zones. You can klip 3 times using a 2 zone klippekort or 2 times on a 3 zone klippekort or a single time on a 6 zone klippekort.
After using the zone calculator, figure out the number of zones and use only the number of zones that you need to travel in. You can combine any klippekorts to total the right number of zones. Just klip all the cards at the same time (one after the other).
If you are missing a single zone, buy a single ticket. These are only valid for purchase in combination with other tickets. You can not travel on a single ticket alone.
Remember, you will not be getting a refund on any unused travel, so why pay more?
You can also download a interactive file, where you can change your starting zones. Works the same way, you just use the left sidebar to choose the zone you are starting your travel in.
You can download it at here. Just right click and save.
To learn more about public transport, remember to check out some the links below.
If you found this page helpful, please give a google+ and or a facebook like at the top of the screen, so others can also find this information. Thank you.
Please feel free to comment on this subject
Do you have a helpful tip or comment on this subject that you would like to share? Please leave comments below.