Traffic Fines in Denmark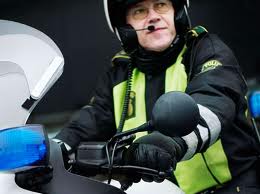 Denmark is increasing traffic fines as of January 1, 2012 and the amount is basically a 100% increase for most offences.
Police have also added a few new types of fines including a fine for using a telephone while cycling.
Many believe that the fines are a direct result of the government needing to find more ways to increase revenue in their "cash strapped" budgets, this seems to be a pretty good method.
The lowest fine used to be 500 kroner, but it will now be at least 1000 kroner for any motoring offence. Below is a list of some the driving fines that you can receive if you violate a Danish traffic law and are caught doing it. That is the key - if you are caught.
Soapbox: I can go weeks without ever seeing a police vehicle. I am sure they are about, but I drive on average 200km per day - all over Denmark - and the police are not very evident.
Of course, there are a lot of unmarked vehicles on the road, especially traffic vans (disguised as old vans parked on the side of the road), but I see a lot more unsafe driving than police patrolling.
The best way to avoid these fines are two fold. First know the traffic laws and signs, so you are not inadvertantly breaking a law. You can read more about that on the driving rules to avoid traffic fines page and the second way is to follow the laws and drive safely and friendly.
Now for my Monty Python's bit ... "now for something completely different". Did you know that a speeding ticket in Denmark is called a "fart ticket"? Okay actually it is a "fart bøde".
Fart means speed and bøde means ticket. Fart is not pronounced the same in Danish as in English. It is a softer "a". But you will often see signs that say "watch your fart".
But the speed you drive is referred to as your "hastighed".
Just a fun bit of trivia and now the serious and costly stuff. TRAFFIC FINES!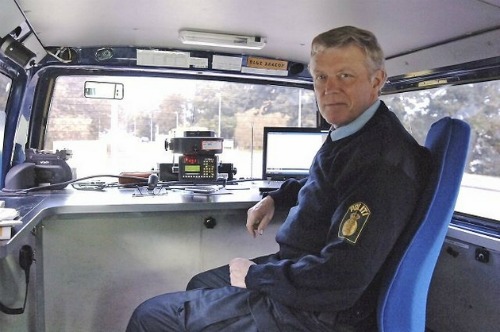 1000 kroner Traffic Fines
Here are some of the things you can receive a 1000 kroner traffic fines for:
Driving without lights on. Your vehicle must have headlights on at all times when driving in Denmark. Driving with improper lights at night is not only hazardous to other drivers but gets you fined.

Vehicle condition: If your brakes or horn do not work properly or you have worn out tires. You can be fined 1000 per each worn out tire on your car.

Remember to always carry your drivers license or the police can fine you for that.

Driving in improper places such as in bike lanes, on the sidewalk and even for driving too far left on wide streets where it is possible to drive further to the right.

Speeding carries a min. fine of 1000 for the first 20% over the posted limit and than gets progressively higher. See the chart below.

Emergency situation fines include not using your warning triangle when broken down, not using emergency flashers when at end of a queu on the motorway, unjustified use of your emergency flashers.
Forgetting to signal when turning.
And here is one you do not see often, but if you forget to secure your car (set the brake) when parking, you can be fined.

1500 kr Fines

Now some of the higher driving fines at 1500 kroner are:

Not following road signs and traffic signs.
Not having a fasten seat belt on when driving.
Talking on a hands held telephone (mobile phone) when driving.
Driving more than 20% over the posted speed limit.


2000 kr Fines

The highest driving fines start at 2000 kroner and they are for:

Disobeying traffic lights, such as running a red light.

Driving in an emergency lane.

Crossing a double line on the road.

Not giving right of way at an intersection.

Driving the wrong way in traffic including roundabouts.
Driving more than 30% of the posted speed limit.
Other Traffic Fines
Here are a list of other fines you can incur if you do not know or follow the traffic laws of Denmark.
Speeding fines can vary from 1000 kroner to 7500 kroner. If you travel over 140 km/hour, you can get an additional fine of up to 5000 kroner. If you drive over 30% of the allowed speed there is another 1000 kroner fine added on.
Driving drunk also carries an additional fine outside of the traffic fine you may be stopped for.

Below is a chart of speeding fines.
The chart is divided into 10km increments. The first block is for 30km per hour zone. The next is for 40, 50, 60 ... up to 90.
You can see what the fine is if you are driving more than that speed. For example if you are in a 50km/t (50 kilomenter per hour) and driving 66, you are in the 30-39% over range and the fine is 1500 kroner. Regular cars fine are under bødetakst 1 and heavy vehicles are under bødetakst 3.

Most of the fines listed above are for motor vehicles, yet the same laws apply to motorscooters and the fines are about the same, except for the disobeying road sign fine is 1000 instead of 1500.
Pedestrians are not immune from traffic fines. If you cross the street outside of a designated crosswalk (jaywalking) or cross against the light, you can be fined 700 kroner.
Cycling fines (breaking traffic laws) - 700,-
Cycling and talking on the phone brings a 1000,- fine.
Other unsafe driving can give varying fines, like driving too close to another car in front, motorcycles driving between cars known as slalom driving is illegal.

What to do, if you get a traffic fine.
If you do get a traffic fine, the best option is to pay the fine. Most of the traffic offences are caught on video, so unless you are absolutely positive that you are not at fault, it does not pay to try to fight a ticket.
I have yet to meet anyone who has tried and succeeded. I am sure there are people, who have, but everyone I talk to says that is near impossible to reason with the police on traffic fines.
So to sum it up, break a traffic law in Denmark and get caught, you get a hefty traffic fine. Better to slow down, learn the traffic signs and laws and drive as if a policeman was right behind you.
P.S. If you earn under a 125,000 kroner a year or are under 18, you can get a reduction in your fine. Max reduction is 50% and you have to apply for it. It is not guaranteed.
You can also learn a bit about paying fines for public transportation offences like having no ticket or an invalid ticket here.
For more information on consequences of getting traffic fines including what constitutes losing your licence check out this site.
Here is an example of how hard the government is trying to get revenue? The image below shows a sign saying one way street (ensrettet), but it is also a dead end street. The sign with the white and red box indicates a dead end street. So when you drive down the street you can not get out unless you drive the wrong way, which garners you a nice little fine of 2000 kroner. How utterly devious.
This is a shopping district, so delivery trucks need to go down it to deliver goods to the shops. But will they?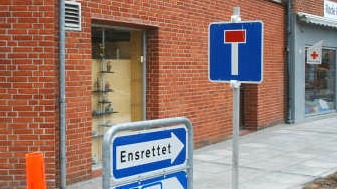 Other Transportation Information
Below is list of some of the other transportation related pages on FYI Denmark, so you choose which mode you wish to learn more about.

If you found this page helpful, please give a google+ and or a facebook like at the top of the screen, so others can also find this information. Thank you.
Please feel free to comment on this subject
Do you have a helpful tip or comment on this subject that you would like to share? Please leave comments below.
What Other Visitors Have Said
Click below to see contributions from other visitors to this page...