Post Office in Denmark
The Post Office in Denmark is run by Post Nord, which is the Swedish postal service that incorporated Post Danmark (the Danish postal service) back in 2014. Their official website is www.PostNord.dk, where you can get more information on specific services such as business mail, prices for sending packages, locations of local postal services, etc.. Before using Post Nord, let me help you along with some useful information about the Post Office in Denmark. 
This page is dedicated to give you an overview of how the system works from the view of an expat living in Denmark.
The average rate of posting a letter is probably the highest in the world. At least I have not found any other country with higher rates. Right now you can send it for 10 kroner in 2020 for a average letter! and that is if it is under 50g and only in Denmark.  If you want next day delivery it is 19kr extra or 29kr for the same letter.  That price also increases as the package weight increases.
Up to 50g - 10kr
Up to 100g  - 20 kr,
Up to 250g  - 40kr,
Up to 500g - 60kr
FYI: It is actually cheaper to send packages from overseas than it is to send a package across town in Denmark! Like that makes any sense? You can view the postal rates in Denmark at Post Nord.  Beware extra charges for home delivery, expedited delivery.
P.S. I often drive to Germany (200km) to mail packages to the UK and US, since it is still cheaper to pay for the trip to Germany and pay the German postal fees, which are substantially lower. Saved 900kr just on a couple of packages to the UK.

Post  Nord uses lots of bicycle couriers to deliver much of their mail in the city and blue (or older yellow Post Danmark) trucks in the outlying areas and country. You will often see bicycles like the one below around town loaded down with packages and letters.  They are beginning to switch over to the blue Post Nord vans now, so the yellow ones may be a thing of the past  soon.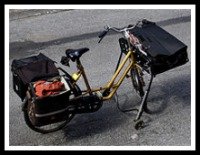 When you mail a letter to Denmark, you will need to include a postal code (same as a zip code) which is always 4 digits long. These are listed before the city name. For example: DK - 2500 Valby. The postal code is 2500 and the city is Valby.
Remember to use the DK - , before the post code. This is a new policy in 2020.
The codes run from 1000 to 9999. Sjælland / Zealand uses the numbers 1000 to 4999, while 5000 to 5999 is for Fyn /Funen and 6000 to 9999 is Jylland / Jutland. Bornholm has 3700 to 3799.
These can be divided into more subcatgories of Copenhagen area, north and south Zealand, North, South and Mid Jutland, etc.
Exceptions: If you are given a 3 number postal code, it will be a post office box and not a physical address. Double check you get the right postal code.  You can see all the postal codes here.  When addressing a letter you will write it like this:
George Jensen (name)
123 Vesterbrogade (street address)
DK - 2500 Valby (4 digit postal code followed by City)

Postal Rates
There used to be 2 postal rates in Denmark, A Post and B Post, yet that is now been changed. All mail is sent as B post or regular mail. If you want your letter or package to arrive next day, you have to pay for next day delivery which starts at 19kr min and increases up to 27kr for letters.  Packages are sent using a "pakkebox" service, which means that the mail has to be picked up at store or center close to your home. Could be placed in a secured locked box or at a service counter. If you want it delivered to your home there is an additional fee of 15kr per package.
Rates are based on the size and weight of the item being sent. Post Office in Denmark divides into letter or package. Often you can send it either way, so choose wisely. A letter can be a max of 90 cm (length x width x height). Length can not be longer than 60cm. Any bigger it will be sent as a package. Max weight for a letter is 2kg.
A postal rate chart is found on the Post Nord website or you can download the Online Porto app for PostNord.  Just choose the weight and correct category based on the above information. When the results come up, you can choose and extras like next day delivery or delivery to your home.  Post Office in Denmark Stamp Chart.  

Post Office in Denmark are being closed down and it is only in the major cities that you will actually find a post office building. For example in Copenhagen, Arhus and Aalborg and those will also close down soon.   
Outside of the major city centers, you will find the post office is being relocated to a grocery store, boutique, bakery or other type store. You need to look for the Post Office in Denmark sign. There opening hours will vary from place to place. Some are only open in the morning, while others in the afternoon and some all day from 10am to 6pm (Monday to Friday) and 10 am to 2 pm on Saturdays. Do not be surprised that the smaller post offices have limited opening hours.  Many times these postal places are not manned and you just drop off your package on a counter. I perfer not to use those places, since you have no control if your package actually gets picked up and if it does, by whom. The area is not secure or watched, so anyone can come by pick up your package and walk out with it. Thanks but I will find another place where it is better secure.  Post at your own risk at these places.  There are still post boxes available and they usually collect daily.
Postal ettiquette. When you write your return address it should be crossed out. Just put a light "x" through the address. It is also usually on the back side versus the upper left corner as it is common in the states and UK. Also remember to put DK - before your postal code.
The return address should still be legible, but makes sure the post office knows which address to deliver to and which one to return to if necessary. You can also use Til: , which means "to" and Fra:, which means from.
FYI: If a letter is sent with too little postage, it will incur a fee. I have twice received letters delivered to me and when asked to pay for the extra postage and surcharge, I refused. You should too and this is why.
The letter will be returned to the sender if you do not pay the extra postage and they will have to pay the fee. Don't be forced to pay, since it can often be a junk letter. The surcharge can easily run up to 50 kroner or more! If you have mobile porto and the fee is too little, Post Nord will still deliver the letter, charge you the extra missing postage and add a 60 kr handling fee. 
For example: If you send a letter that weighs 52g, the postage should be 20 kr, but you might have weighed it at 49g and put only 10 kr on it. The letter gets delivered, you get an additional charge of 70kr - 10 kr for stamp and 60 kr handling fee. Now that letter has cost a total of 80 kr to mail. What a bargain.
Post offices Denmark boxes are located around the city centers and can easily be spotted since they are bright red.
If you receive a lot of letters / packages and it is difficult to get in your building or there is no one home to sign for packages, you may wish to sign up for "døgnposten", which is an offsite station where the post office delivers your packages and letters. You get a code to use to collect them there at your convenience.  
Another option is have your packages sent "uden omdeling", which means without distribution. This way your package is sent to a local shop in your area, that accepts the package for you. You than collect it from them.  The postage is less and it is a more secure way to receive your package if you are not home to collect it in person.

If you plan to use the Danish Postal System, I suggest you familiarize yourself with their website. It is a bit confusing, the app is easier to use.  You can read more about the various options in postal rates at Post Office Danmark. Remember to click the English icon (located to left of search box) to see the pages in English.
There are other options for sending your mail instead of using Post Office in Denmark, try places like Fed Ex, GLS, UPS, Bring and Cool Runner. There are many private couriers springing up that are trying to fill the vacuum that Post Nord is leaving. I am not going to recommend any couriers, since I do not know of their reliability yet, but I am trying a few of them with my local packages. They are cheaper, the delivery time is often a few days later - not a problem for me. 
2020 Update - For several years I have been using GLS with my DBA packages and they are great. Next day delivery is the norm except on weekends, insured, tracking. I get the lower rate by having a free DBA account. Just sign up with DBA (it is like Ebay) and use their rates, which are much lower than Post Nord. Another great service has been Cool Runner for my European packages. Their site is a bit more involved but service and delivery is very good. Insured, trackable and reliable.

Helpful Post Office in Denmark Tips

There are a few things to be aware of in order to keep getting mail and only the mail you want.
1. The name of people residing in your house, apartment, etc. should be listed on your mailbox or door. If not,the post office may not deliver the mail to you.
2. If you do not want junk mail, flyers, free newspapers, etc. you go to this website.  Here you can get a sticker to put on postbox, plus also sign up for only those advertisements you want delivered to your house.
3. You must follow Denmark rules requiring the placement of your mailboxes.  If you are responsible for your own mailbox, make sure it complies to the new rules. All apartments must have a central postboxes in the lobby. Stand alone properties must have a post box out near the entrance to their house and not on the porch or by the front door.

4. The last piece of advice is that you can not leave outgoing mail in your box or on top of your box for pick up. The post people do not like collecting the mail. Put your mail in an authorized postbox or deliver it to the post office. If you know your post person, you can sometimes ask them if you see them, but they are not obligated to do so.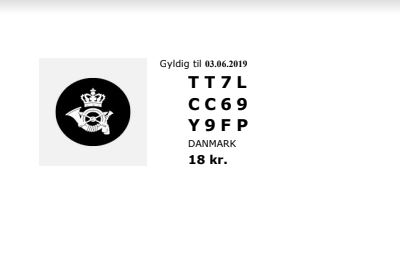 5. You can buy stamps from your local postal store or online at the Post Nord website, yet it is not necessary since most people use downloaded stamps known as a portokoder.  Most people now use mobileporto, a simple app for your phone that lets you print your own stamps.  You can either print the code as above or just write the 12 digit code in upper right corner of your letter or package.
You may want to learn more about everyday life in Denmark here.
If you found this page helpful, please give a google+ and or a facebook like at the top of the screen, so others can also find this information. Thank you.
Please feel free to comment on this subject
Do you have a helpful tip or comment on this subject that you would like to share? Please leave comments below.
What Other Visitors Have Said
Click below to see contributions from other visitors to this page...

MsLarsen






This was very informative. Thank you. While on vacation in Sonder Vissing, I payed to have a small local shop mail my souvenirs back to my home in the …
postnord.dk






I have not been able to get through to http://www.postnord.dk/da/privat/Sider/privat.aspx for weeks. Does anyone know why? Usually government sites only …
Renting a postbox in Denmark Not rated yet
Good day How can I rent a very small mail box for personal correspondance please ? Thank you Mir Response: Contact the Danish Postal System. They have …