Riding the Copenhagen Metro in Denmark
Riding the Metro in Denmark is the easiest and quickest way from the airport to central Copenhagen. Not only that, the metro is more convenient than the train since it runs constantly. You rarely have to wait more than a few minutes for the metro to arrive.  There are now 4 lines called M1, M2,M3 and M4. Easu enough to remember.
The M1 line goes back and forth from Vanløse to Vestamager, while the M2 line goes back and forth from Vanløse to Copenhagen Airport. They make 14 to 15 stops along their respective routes, each one does stop at Kongens Nytorv and Nørreport, which are central downtown locations.
Line M3 is called the city ring which runs around the city and intersects with the other 3 metro lines at Frederiksberg and Kongens Nytorv.  M4 runs from the Copenhagens main train station and north to Nordhavn and Orientkaj.
Since the Metro runs without a driver (it is automatically driven) it runs 24 hours a day, 7 days a week. During the rushhour the metro runs every 2 to 4 minutes. The rest of the day it runs every 3 to 6 minutes. So you can see there is very little waiting time.
At night and on weekends the time between Metros can vary from 10 to 20 minutes depending on the line. But still that is not a very long wait.
At the airport the Metro for Copenhagen is located in Terminal 3. Just look for the sign that says METRO. Not hard to find.
Tickets: You will need tickets to ride the Metro. You can use the same tickets you use on the bus and train. A ticket to the airport from downtown costs 18kr if you have a rejsekort or else a ticket is 36kr.  If you ride the metro you will never pay more than for 3 zones even if you go through 4 zones. That applies only to metro travel. 
Learn more about Zones and Tickets here.
Lots of people want to open the doors on the metro, but it is not necessary. The doors will open automatically and close automatically. Just wait behind the yellow line, so that you not get hurt. When the Metro stops, the door opens up.
Make sure you have your ticket and get on and off at your stops. The best place to sit is up front, where you can look out the window and see the tunnel.
Watch the short video below and it gives you an idea of how a station looks and how to board and exit. The other videos below will also enlighten you on how the metro looks inside. Notice the signs above the escalator announcing the time of departures for each line.

Before taking the METRO in Denmark
Even though the Copenhagen metro is very convenient, be sure that it is the best choice for you. There is also the train which goes downtown. The cost is the same and it stops at the main train station, yet with the metro you will have to switch lines. Plus if you are going further than downtown, than the Metro in Denmark may be the wrong choice.  Yet the metro has many stops that are not served by the trains, so for lots of travel locations the metro is a godsend.   If traveling with luggage, I suggest avoiding the buses, since it is very inconvenient. See all the modes of transportation available to you in Denmark.
If you plan to continue your journey to Klampenborg or Køge, than the train is better for connections. You can connect at Nørreport, but that is really the only place on the Metro line that has possibility for a direct and easy connection to all trains.
So plan wisely before choosing. Check with your hotel or the locale that you plan to head to. Ask them what is the best stop for you? What is the best travel option? A few simple questions can save you a lot of hassle and possibly money.
Also be aware that the stations do have elevators and escalators (see photo), yet if you are traveling with luggage or baby carriages, you should know that the elevators are VERY often out of order or extremely busy, so it is either the stairs or escalators. It always frustrates me that people who have no need for the elevator take it instead of the moving stairs, reventing people with a real need.  People think of others!
Safety
Generally speaking Denmark is a very safe country, but the metro and train stations are often hangouts for drunks and drug users, especially at night or when it is cold outside.
Most of the time, they stay to themselves, but there are times when they get a bit boisterous. The only staff you will encounter are ticket checkers and they rarely do anything about the drunks, drug addicts or other trouble makers.
Ask other people for help if anyone is around. There are also green and red buttons on the metro. Green is for general assistance and the red is for emergency help. Do not be afraid to use them if you feel that you are in danger. Better safe than sorry.
Try to always to avoid traveling alone, especially at night or on weekends. If you do just be vigilant. It really is rare that anything happens.
For more information on the Metro in Denmark, you can go to the Metro in Denmark homepage
History of the Copenhagen Metro

In October 2002, the metro in Denmark was officially opened in Copenhagen. There were 2 lines running from east to west. The novelty of the metro was that it is fully automated and has no conductor on board.
The first line ran from Nørreport (in Copenhagen) to Vestamager (on Amager) and was opened on October 19, 2002. The second line ran towards Lergravsparken.  Additional stations were added as the project progressed.
May 2003, they added Forum and Frederiksberg and later that year in October they added Vanløse and opened Flintholm in 2004.
The metro in Denmark reached the airport in September 2007.
In 2019 the City Ring opened up, yet it did close down for several months due to problems.
Now in 2020 the M4 has opened up and is expanding north qucikly.
The metro now has 4 seperate lines and is still growing. The metro is modern, clean (mostly), stylish and convenient.
 A brief time line of the metro in Denmark completion dates.
19 Oct. 2002 - Nørreport - Vestamager - Lergravsparken
29 May 2003 - Nørreport - Frederiksberg
12 Oct 2003 - Frederiksberg - Vanløse
24 Jan 2004 - Flintholm
28 Sept 2007 - Lergravsparken - Lufthavnen
2019 - City Ringen opens
2020- M4 line opens
List of Metro Stations in Copenhagen Denmark

 Below are the stations on each line, you can see that some of the same stations are on 1 or 2 lines, like the M1 and M2 share 9 stops and M3 and M4 share 6 stops
M1  Vestmager
Vanløse – Flintholm – Lindevang – Fasanvej Solbjerg – Frederiksberg- Forum –Nørreport – Kongens Nytorv – Christianshavn – Islands Brygge – DR Byen Universitetet –Sundby – Bella Center – Ørestad – Vestamager
M2  KBN Lufthavn
Vanløse – Flintholm – Lindevang – Fasanvej Solbjerg – Frederiksberg- Forum –Nørreport – Kongens Nytorv – Christianshavn – Amagerbro – Lergravsparken – Øresund – Amager Strand – Femøren – Kastrup – Den Blå Planet – Kastrup Lufthavn (airport)
M3 Cityringen
Frederiksberg Alle – Enghave Plads – København Main Station – Radhuspladsen – Gammel Strand – Kongens Nytorv – Marmorkirken – Østerport – Trianglen – Poul Henningssens Plads – Vibenshus Runddel – Skjolds Plads – Nørrebro – Nørrebros Runddel – Nuuks Plads – Aksel Møllers Have
M4 Orientkaj
København Main Station – Radhuspladsen – Gammel Strand – Kongens Nytorv – Marmorkirken – Østerport - Nordhavn – Orientkaj
Below is a new map of the metro that has just opened in 2020.   You can read more about the metro here.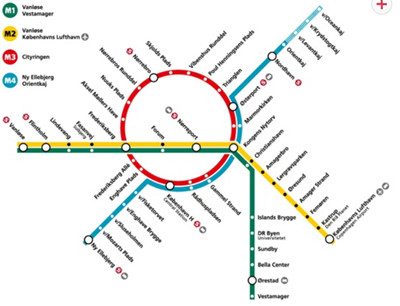 Other Transportation Information
Below is list of some of the other transportation related pages on FYI Denmark, so you choose which mode you wish to learn more about.

If you found this page helpful, please give a google+ and or a facebook like at the top of the screen, so others can also find this information. Thank you.
Please feel free to comment on this subject
Do you have a helpful tip or comment on this subject that you would like to share? Please leave comments below.