Gas Stations in Denmark
A guise to use the self serve pumps in Denmark
Petrol or Gas Stations in Denmark are called either a benzinstation, tankstation or servicestation. For some people pumping gas in Danish can be a bit of a puzzle and a small mistake can either prevent you from getting the gas you need or possibly paying too much or getting the wrong pump. Hopefully these steps and tips will help you get back on the road without pulling your hair out or losing your money.
There are 9 major gas station chains in Denmark and a few independant dealers. The major chains are listed on the gas stations in Denmark page.
When going to a gas station, you will find lots of self service stations many without even a store attached. There are also alot of them attached or near grocery stores, especially in the smaller towns. I have yet to find a full service station in my travels throughout Denmark, but there may be some. Just do not expect to find one, let it be a surprise. And than let me know where you found it!
---
How to use  Danish Self Serve Gas Stations

When filling up at gas stations, it is most common to use a self service pump, where you just enter your card and pump. The process is fairly simple, but here are the most common steps.
You will need either a Dankort, Gas Credit Card or International Credit Card. Some machines will accept cash. You can deposit paper money, like 50kr, 100 kr, 200 kr or 500 kr. You do not get cash back if you do not use the full amount of the money, so make sure how much gas you need. 30 (+/-) liters is usually about 300 kr. During the daytime hours if there is a store attached, you can pay inside at the cashiers. You may need to go inside and tell them you wish to pay at the counter.

If you decide to use the self service pumps, here is a typical scenario, which should serve you well at most gasstations.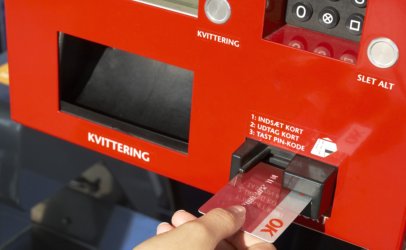 1. Insert your card in the machine, which is usually located on the island. The card is inserted face up with the black stripe facing to the right. There is usually a picture or diagram showing which way the card should be inserted.
See the above photo, the diagram is right above the card slot.
If you do insert it incorrectly, than you can try again when you get an error message.
Remember: Many machines will have an option to have the instructions in either Danish, English or German. If not it is simple to follow along in Danish too.
If paying with a card look for the machine that says "Betal med Kort", which means pay with a card. If paying with cash, there is often a separate machine that says "seddelautomat". There is often just one seddelautomat at a station, so it could be on another island than the one you are parked at but you can still use it - just make sure you put in the correct pump which you are to use.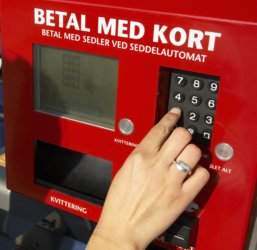 2. Enter your pincode for your card. You need to click on "godkend" when finished entering your pin number. When the code is accepted, your card will be ejected from the machine or it will say remove your card for transaction to continue. (fjerne dit kort til fortsætte)
Important TIP: It is important that your credit card or debit card has a four digit code connected to it, since the machines in Denmark will require one in order for you to use their machines. These can be obtained from your bank in your home country. May take a while, so plan ahead.

3. You now need to choose which pump you want to pump from. The numbers are usually on the stand or above it. Push either the screen or the number pad to activate the pump.
4. Now take the pump out of the holder and choose which type fuel you want to pump.
Gas stations have 3 choices of fuel. Your choices are 92 or 95 octane or diesel. The pump with the green handles are for gas and the pump with black handles are for diesel. Make sure you choose the right pump before choosing your fuel type. Sometimes there are different pumps for diesel. LPG gas is not very widely used or found in Denmark, so if you need LPG do some research before setting out.
Sometimes you will have to choose the type fuel from the touch screen.
5. Once you are finished pumping, return the pump to the stand and go back to the machine.
6. Either on the machine you will see a kvittering button (see pic) or on some screens you should find the word "kvittering", which means receipt. The screens are usually touch ones, so just push on the word and the screen will give you an option of which pump.
Press the number that corresponds to your pump and your receipt will be printed.
Some times the machine will ask you to reinsert your credit card or gas card in order to get a receipt. Do not reinter your pin code, just insert the card. It will be ejected when the receipt is printed or right before printing.
If the card is not ejected, just click on annullere to cancel the transaction and the card will be ejected.
Most gas stations machines are fairly standard, so this simple set of instructions should serve you well.
Before you drive off, make sure you know the driving laws in Denmark and have to avoid traffic fines.

Finding the cheapest gas prices in Denmark
Finding the cheapest place to buy gas is a bit of a guessing game. Price wars between local stations are always going on. The owners check out the competition and adjust their rates accordingly. Prices change several times a day.
The best advice I have on getting the best price is to make sure you buy your gas / petrol early in the morning. Between 9am and 10am, the stations raise their prices. The difference can be as high as 1 to 2 kroner more per liter.
If you drive daily, you will soon learn which gas stations have the lowest prices and what days or times are best. Where I live, I find that Tuesdays and Wednesday mornings are usually the best.
You can also get a list of comparable prices at FDM.  (this site has closed down as of March 6, 2019, but it may come back if there is a demand for it) When you visit the site, put in your local postcode and it will search for the stations in your area and the latest price. This is not 100% accurate, but will give you a good idea of where to look for the best price.
Of course the best way to save on gas prices is to not drive, but take local transportation. Learn if buying a car is the best option for you and your family's needs.
If you found this page helpful, please give a google+ and or a facebook like at the top of the screen, so others can also find this information. Thank you.
Please feel free to comment on this subject
Do you have a helpful tip or comment on this subject that you would like to share? Please leave comments below.