Ferries to Denmark
Several of the European countries offer ferries to Denmark, helping you avoid the long drive. Denmark has a large ferry system, helping commuters and truckers get to and from Denmark. There are several cruise lines also servicing within Denmark and some very small ferries for reaching the remote islands.
The ferry companies servicing Denmark, each have their own way of operating.  Some ferries are very basic, while others are mini cruise ships. Some take cars and passengers, while others only take passengers. You need to check out their websites for pricing and scheduling.
Please be aware that many of the ferries do not travel every day, some only have 1-3 departures per week, while others have several a day. During winter, severe weather can cause cancellations and delays, so plan carefully.
I have been on many of these ferries and can tell you it is a nice way to travel, very relaxing and beats flying and/or driving if you have the time. It is not always the quickest way, but it can be very convenient. Sometimes it is the ONLY way to reach your destination.
Note: I have driven from Copenhagen to London (via the Eurotunnel) and I have taken the ferry from Esbjerg to Harwich and driven the rest. I will take the Ferry everytime! Quicker, more relaxing and cheaper! Remember many of the ferries do not accept pets, check before booking if traveling with pets.
Now here are some of the routes / ferries to Denmark. There may be others and if you know of one that I have not mentioned, please let me know and I will include it.
There are also lots of ways to get from Sjaelland to Jutland and many of the other islands in Denmark by using the ferries in Denmark.

Great Britain to Denmark Ferry Update
Unfortunately, my favorite ferry line was Harwich to Esbjerg, which sailed for nearly 138 years has stopped as of Oct 1, 2014. If you are looking for ferries to Denmark from England, you will now have to use the tunnel service, since this service has ceased to exist. Sad day, but obviously cost, more regulations and a decrease in traffic was enough to force them to stop sailing.

Norway Ferry
You can ferry to Denmark from Norway using the Kristiansand - Hirtshals route. Hirshals is located at the top of the Jutland Penninsula. Contact Color Line. Journey time is 4 hours.
Another route to Hirtshals is from Stavanger/Bergen using the Fjord Line. Contact them at Fjordline.com. Journey time is 16 hours to Bergen. 6.5 to Stavanger.
You can travel from Oslo to Frederikshavn (on the upper east coast of the Jutland Penninsula) with Stena Lines. Contact them at StenaLine.dk for schedules and pricing. Journey time is 8.5 hours.
From Oslo you can get to Kobenhavn with DFDS Seaways. Contact them at DFDS Seaways. Journey time is 16.5 hours.

Sweden Ferry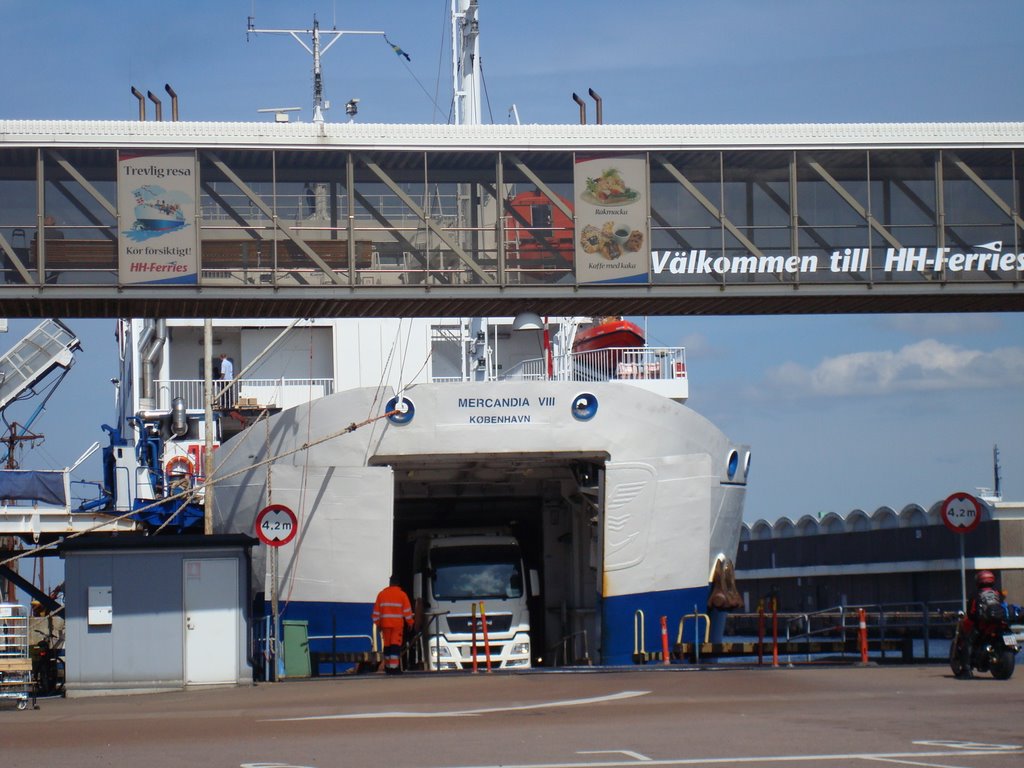 From Sweden there are two ferries to Denmark from Helsingborg to Helsingør. You can actually see Denmark from Sweden and Sweden from Denmark on this short stretch. (in clear weather of course). There are 3 services to choose from:
HH Ferries at HH Ferries.se
Scanline at Scanlines.dk
There are two other services from Sweden run by Stena Lines.
Göteborg to Frederikshavn and Varberg to Grenaa StenaLine.dk Journey time is 3.5 hours and 5.5 hours respectively.

Germany Ferry
There are daily ferries to Denmark from Germany, which take very little, but are quite popular for their tax free shopping opportunities.
This is another really short ferry ride and not sure if I would be inclined to take it, since the drive time and distance is almost the same. But for the sake of being thorough, it is included. The ferry from List, Germany to Romo (island off southwest coast of Jutland) is run by Sylt Lines Syltfaehre.de. Journey time is 40 minutes.
Rostock to Gedser is a very popular route, since it connects Lolland/Falster and Sjaelland to Germany and eastern Europe. This route is used by many travelers visiting Denmark. Contact Scanlines.dk. Journey time is 1.45 hours.
In the same vein is the Puttgarden to Rødbyhavn, which connects to Germany and for travelers heading to central and western Europe. The benefit of crossing with the ferry from Germany at the above two lines is that you dont have to drive up through Jutland and cross over the Storbaelt bridge and pay the outrageous toll. $60, No kidding! And it gets you to Copenhagen quicker. Journey time is 45 minutes. Contact Scanlines.dk.

Poland Ferry
The Swinoujscie to København Ferries to Denmark connects Poland directly to Copenhagen on this 12 hour journey run by the Polish Baltic Shipping Company. Contact them at Polferries.pl. They also run a service to Bornholm.

Iceland / Faroe Islands Ferry
There are a few other long distance ferries to Denmark which I should mention.
Tórshavn to Hanstholm, which is the ferry from the Faroe Islands to northern Jutland. A short 38 hour ferry journey. Contact Smyril Lines.dk.
and of course you might enjoy the
Seydisfjórdur to Hanstholm, which is the 64 hour ferry journey from Iceland to Denmark. Contact Smyril-Line.dk. 

Bornholm Ferry
Bornholm is a island that is part of Denmark, yet it lies east of Denmark and south of Sweden. It does have 4 routes which connect to Denmark, Poland , Sweden and Germany.
Nordic Ferry Service runs the Denmark, Sweden and Germany routes and the Polish Baltic Shipping Company runs the one to Poland (see above)
And of course there is the Bornholm Express from Kobenhavn to Bornholm. Journey time is 3.15 hours. Yes, I know Bornholm is part of Denmark, but than so is Iceland.  This route is now run by Mols Linien.

Final Remarks about Ferries to Denmark
Remember to check in early. Most of the ferries to Denmark require you to meet anywhere from 1 hour to 2 hours ahead of departure. If you arrive right before departure, you will probably have to wait til the next ferry.
Be prepared and remember your passport when traveling between countries. Have a safe and enjoyable trip. If you do not find a ferry route suitable to your needs remember to check out the other transportation options to Denmark.
Learn more about Ferries in Denmark, 

If you found this page helpful, please give a google+ and or a facebook like at the top of the screen, so others can also find this information. Thank you.
Please feel free to comment on this subject
Do you have a helpful tip or comment on this subject that you would like to share? Please leave comments below.
What Other Visitors Have Said
Click below to see contributions from other visitors to this page...

Maps






Hi, Thank you for the information. I just wanted to say that it would be great if your site had a map link or links which show the ferry routes you …
Denmark and Iceland






In connection with your section on Bornholm, I should just like to point out that Iceland is certainly not part of Denmark. It has been a unitary parliamentary …