Djursland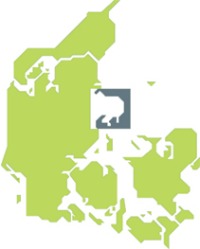 Djursland Denmark is about 50 square kilometers located northeast of Arhus, Denmark. The area looks like a nose jutting out into the sea. Since Djursland is surrounded on 3 sides by water, it is a natural gathering area for vacationers in Denmark and abroad. There is a large concentration of summer homes and vacation rentals in the area.
The major cities in Djursland are Ebeltoft, Grenaa, Rønde, Auning and Allingåbro and Fjellerup. There are 18 major cities in the area and many smaller villages and towns. Aarhus international airport is also located in the southern part of the area just outside Tirstrup.
There is a major port in Ebeltoft which has ferry service to Sjælland, Denmark and another port in Grenaa which has service to Sweden and also the island of Anholt.
Djursland Attractions
Below are some of the most popular tourist attractions in Djursland, which prides itself on its tourism and reportively has the highest concentration of tourist attractions in Denmark.

1. Beaches: The biggest attraction for Djursland is the large number of fine beaches which surround Djursland on three sides. The best known and most family friendly is Grenaa Strand , which is about 7 km long with great sand beaches and good facilities for family fun. Other beaches are Boeslum and Draaby , located further south near Ebeltoft on the east coast and inner cove of Ebeltoft has several beaches including Vibaek and Femmøller. Furthur north you can visit Bønnerup Strand or Lystrup Strand. There are 13 blue flag beaches among the 30+ beaches in Djursland.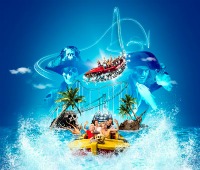 2. Djursland Sommerland: Djursland is home to one of the most popular tourist attractions in Denmark, Djursland Sommerland, an amusement park located north of Nimtofte. Open from May to early September, it is home to 60+ rides and amusements for children and adults. The water park portion of the park usually opens the end of May or early June.


---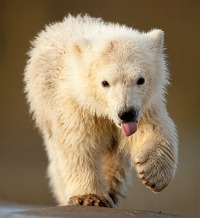 3. Skandinavisk Dyrepark: The Scandinavian Wildlife Park near Kolind, offers you the chance to see nearly 300 animals, from polar bears to elk and many other species of Scandinavian animals. You can get up and close to many of them and even be part of their feeding.
---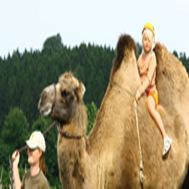 4. Ree Park in Ebeltoft: Here you can see 90 species of animals including giraffes, bears, camels and much more. Both of these animal parks have lots of activities and are quite large. You can easily spend a whole day in each one without getting bored. Season is from April to October.


---
5. Munkholm Zoo: Located just outside of Balle, this zoo is a bit more intimate, where can enter the grounds of many of the animals and get real up close!
---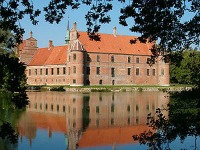 6. Rosenholm Castle: This is probably Denmark's most beautiful castle (at least one of the most photographed) and is just north of Hornslet. Open during the summer months, it is well worth a visit.
---
7. Ebeltoft is the largest city in Djursland and is home to not only several fun attractions, the city itself is a good way to spend a day strolling the old town and harbor. You will see many thatched roof house, half timbered houses, cobblestone streets and quaint shops full of history and antiques. Not only that there are plenty of small restaurants serving some wonderful Danish cuisine. Beware you will may run into many artists such as painters, glassblowers and such.
---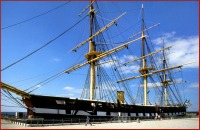 8. Fregatten Jylland is a old warship from 1868, which has been restored and sits in the harbor. You can visit the ship and even participate in some naval activities.
---
9. Kattegat Centre or better known as the Shark Museum houses – yeah, you guessed it – SHARKS. But there is much more: seals and other marine life. You can even dive with the sharks and go crab fishing.
---
10. Glasmuseet Ebeltoft or the Glass Museum is a very modern building which houses a museum on glass blowing and other rotating exhibits. A popular artist attraction
---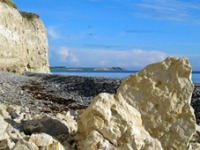 11. The Stenvad Mosebrugscenter is a museum dedicated to the history of working the bog, which insured heat during the long winter months.
12. Fjordcentret is an activity center for children including kayaking, water rocket contests, etc. and is aimed at providing family activities.
13. National Park of Mols Bjerge is a beautiful national park which is great for hiking, bicycling and enjoying some beautiful nature. You can get guided tours or explore on your own.
14. Walk a road from the middle ages! When you visit Kalø Vig, which is medieval castle located on the coast 2 km from Rønde. When you walk along the path to the castle ruins you will walk partly on an old medieval road which is still intact. Think of all the Vikings who have trod these same stones!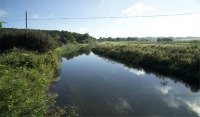 15. Fishing is a big activity in Djursland and there are so many options. You can fish along the coast, from hired fishing boats at sea, along the Kolindsund or at the Randers Fjord. Remember to get your fishing license and always the Put and Take fishing options.
16. Djursland is steeped in history and has many castles, museums and manors. You can spend several days traversing Djursland and visiting the various places. A few of the most see sites are Gammel Estrup near Auning which is home to several museums, Rosenholm Castle, which is one of Denmark's most beautiful castles and is easy to visit just north of Hornslet. You can get a list of all the manor houses and castles in Djursland at the tourist bureau in Ebeltoft.
---
17. Shopping: Djursland is a not of mecca of modern shops, but the cities across Djursland are a must visit for other reasons. The towns are like a walk back into the past with cobblestone streets, thatched roof houses and many many antique shops. On a warm day, there is nothing like walking the cobblestone streets and ducking into quaint shops full of history and atmosphere. Ebeltoft and Rønde are some of my favorites, but everyone will soon discover their own favorites.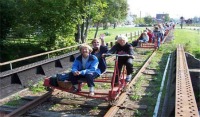 18. Another great day can be had by exploring for ancient monuments from the Stone and Bronze Ages, which are scattered throughout the Kalø region south of Rønde.
19. If you are looking for an overnight adventure, take the ferry from Grenaa to the island of Anholt, which is only 22 square kilometers and home to less than 200 people. One of the most secluded places in Denmark. Only 1 ferry per day, so you will have to overnight in one of the summer cottages, a bed and breakfast or the local pub that rents out rooms.
20. Looking for something unusual, try a railroad cycle trolley. A what? This is a trolley that runs on train tracks from Allingåbro. You sit on a bicycle style seat and pedal the trolley along the train tracks. If you are there on a Wednesday during July and August you might get lucky enough to ride the old steam locomotive.
Each town in Djursland has lots of unique sites and local history to explore. You can rent bicycles, horses, canoes and kayaks in many of the larger towns. Just ask around and you will find lots of friendly people who will direct you to the nearest place. Tourism is a part of life in Djursland and the people there are some of the friendliest people I have met in Denmark. A much slower pace of life, so relax and enjoy.
You can find more information from Visit Djursland at www.visitdjursland.com.