Top Copenhagen Sights
Taking in the Copenhagen sights can be a relaxing and enjoyable experience. This is a city which is not only steeped in history with a very interesting past, it is also a modern, vibrant city.
You will find everything from museums, amusement parks, natural beauty, historical buildings, shopping, fine dining and lots of activities for adults and children.

Since there is so much to choose from, I suggest you visit the tourist office across from Tivoli and spend a little time browsing. There are lots of brochures on tourist sights and there are also tourist buses parked out front of the Radisson Hotel.  If you are only in town for a short while these bus tours will give you a nice overview of the city. There is not guide, you get headphones and listen to a recording - not very informative and often not in sync.

You are better off exploring the city on your own or purchasing a walking tour. Below are my favorite Copenhagen sights and places, where I take my guests, when I show them around Copenhagen. Not always the top attractions but think they give a good feel for the city.
My Top Ten Copenhagen Sights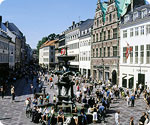 1. Strøget- the #1 Copenhagen Sights - a must experience.

Best of the Copenhagen sights is the "Strøget" or the main walking street, because it is the center of Copenhagen for most people. People meet and gather along the Strøget, which is the world's longest walking street and is closed to bicycles and vehicles except early in the morning when vehicles are allowed in for deliveries.  You can start your tour from Radhuspladsen.  Walk along Strøget, where you will find shops ranging from antiques to haute couture, cafes and restaurants, street entertainment, music, budget shops, ice cream parlors, crystal and amber, sweaters and lingerie, etc. This is a smorgasbord of shopping all in one place. The atmosphere along Strøget is so Danish, you can feel it just walking along. This is not a place you want to rush through, so take your time, window shopping, browse the stores that interest you and remember to look up – there are gargoyles watching you as you walk along Strøget.
2. Kongens Nytorv and Nyhavn (most popular party spot in Denmark)

Two of the most popular of all Copenhagen sights lies at the end of the Strøget and they happen to be Nyhavn and Kongens Nytorv. Kongens Nytorv is the square right before you get to Nyhavn. On the square you will find a 1913 Kiosk and Telephone Booth and if  you thirsty cross over to my favorite tavern - Hvid Vinstue - oldest tavern in Copenhagen.
At Kongens Nytorv you can head over to find a bench and watch Danish life unfold in front of you.  Sit on a bench and admire some of the most spectacular buildings in Denmark, including the Royal Danish Theatre, D'Angleterre Hotel, Charlottenborg, Thotske Palace and Magasin du Nord.
During the winter, they convert the square into an ice rink - for about 4 or 5 months – where you can skate for a small fee. During the summer it is a lovely place to sit and watch the hustle and bustle of the city pass you by. At night time, it is beautifully lit up.
When you cross the square you get to Nyhavn, which is one the most photographed places in Copenhagen (besides The Little Mermaid). The area is rich in color. The buildings along the harbors are painted in various vibrant colors. Ships and boats of various sizes and shapes are tied along the harbor and tables are lined up outside the multitude of restaurants that inhabit the area. This is where people gather to relax, drink and meet friends. You can eat and drink at any of the cafes along the waterfront or you can do as many do - bring your own beer and food, plop down along the harbor and enjoy. Meet new friends or old friends and revel in the camaraderie that abounds in Nyhavn. Of all the Copenhagen sights mentioned, this is the  place to be – especially on a bright summer day.


3. Christiania (hippie kommune)

One of the most unusual Copenhagen sights is Christiania. A place that everyone should visit. Christiania is what is called the "free city" and is home to nearly 1000 residents. The residents are mostly hippies and activists who do not pay taxes and have their own set of laws to live by (though recently this is changing). Christiania is a former military base which was converted on this hippie commune in 1971. Drugs used to be sold freely here, but it is now against the law to sell or purchase drugs. It is still done, but if you get caught, you won't be happy. Avoid buying drugs anywhere while in Denmark! You have been warned. Besides that, this is an interesting place to visit for those looking for something a bit different. FYI: The taking of photographs is frowned upon while inside Christiania. Very much frowned iupon- DONT TAKE PHOTOS THERE!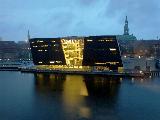 4. The Waterfronts of Copenhagen

Personally, I find the waterfront areas of Copenhagen very relaxing, yet also exciting. There are several areas which I highly recommend. First, if you start in the area called Langelinie, you can walk south along the harbor and catch all the waterfront Copenhagen sights mentioned below.
Langelinie is a bit north of Amalienborg Palace. Here you will find The Little Mermaid, as well as the area where the large ocean liners dock. While there check out the Kastellet (an old fortress) just to the west of Langelinie.  You can also take a boat over to Trekroner Fort - which you can see from Langelinie. Canal Boat tours can take you out there - they depart from Nyhavn or Gammel Strand.
Another waterfront area is Holmen, which is on the other side of the harbor. If you begin walking down Overgaden over Vandet (which is the walkway on the east side of the river), you will get to Princessgade if you just follow the water. When you get to Holmen, you will find a very modern and relaxing area. From the harbor you can get a good view of Copenhagen. This is not a tourist area, but it is such a nice place to visit and walk around. There are several good restaurants in the area. You can take one of the water taxis over to the other side of the harbor if you wish to visit.
On the other side of Langebro,you find Det Kongelige Bibliotek (Library) on the west bank and Island Brygge on the east bank. You can cross the bridge to get there. These are both great areas to visit.  Both banks have undergone a lot of renovation and new buildings have reinvigorated the whole area. Islands Brygge is very very popular on warm summer days and has some great eating places too!
During the summer visit one of the swimming areas along the harbour - it is a blast.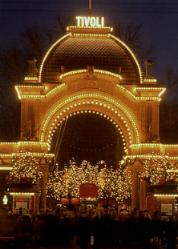 5. Tivoli
To me, Tivoli is the epitome of Copenhagen sights. It is an amusement park, but if you are going there for some wild, wonderful and thrilling rides, you will be sorely disappointed. Tivoli is not a great amusement park in that sense. It is more a park where you go to enjoy the atmosphere, the music, the lights, flowers and "hygge". Yes, there is that word again. "Hygge" is a Danish term meaning to be cozy. Tivoli is "hygge".
I only go to Tivoli when I am with my wife; going alone is not fun. Tivoli is romantic. There is an ice rink, a dance hall, lots of games, food, drink and, most importantly, lots of music. Catch some of the free live shows and the fireworks at night. Tivoli is best experienced at night time. The Christmas market is also a lot of fun. (Not open all year around; check their schedule.)
FYI: If you buy a ticket and go in during the day, you can return at night, if you get your hand stamped will leaving. Most people do not stay all day in the park, but go in during the day and return again later in the evening.  Check at the ticket counter for any changes to this policy.

If you plan to go more than twice this year, get a season pass. Well worth the price of only 280 kroner. This allows you into the park for free for the whole season. Just drop in for a drink or listen to an evening concert. Remember the pass is only to get into the park. Rides and paid events are not included.
Beware when buying tickets in the machines at Tivoli for various rides. Rides close usually at 10PM, even though the park stays open til 11PM. You can buy tickets all the way up to closing time, but they will be useless since the rides are closed. So check that you still got time to use your tickets before purchasing. This has been a bit of a "public relations" blunder for Tivoli and hopefully they will be correcting this oversight soon.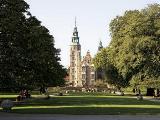 6. The Parks- Natural Copenhagen Sights
Copenhagen has some absolutely wonderful parks, and you should visit as many as you can. Some have castles in them, some have lakes, others have gardens filled with flowers galore, some of them are small and quaint with swans nestled among the reeds. Once you are in the park, you feel so far away from the city and other Copenhagen sights.
My favorite park is undoubtedly Rosenborg Have. Located just north of the city center along Gothersgade, it is lovely park that is also home to Rosenborg Slot (Castle). This is wide-open park, which is very popular during the summer months. If you prefer someplace a little quieter, across the road are 2 other very great parks – Botanisk Have (Botanical Gardens) and, right next to it, Østre Anlæg. These are a bit smaller and more intimate.
Find one of the numerous benches along the lakes and feed the birds, swans and geese. I have spent many a lunch hour- relaxing, reading and even napping in these parks – you feel like you are far away from the city. Very peaceful.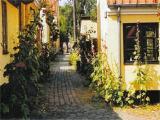 7. Dragør
Technically, this really can't be classified as one of the Copenhagen sights, since it is actually a village outside of the city. Back in 1979, I lived in Dragør for 9 months while working for the airlines. Dragør is a quiet little fishing village which was founded in the 12th century. As you walk down the cobblestoned main street, you will notice the well-preserved yellow painted homes. You can visit the harbor and get a fresh catch of day when the fishermen return from their daily runs.
Sitting down by the harbor and having a beer or an ice cream is just a really enjoyable way to spend an afternoon. Walking during Dragør, you get a feel for how Denmark was many many years ago. Very charming and always a treat for visitors to Denmark.
Catch bus 30 from the main train station and in about 30 minutes you will be there. It is the last stop, so just sit back and relax. Tip: When visiting Dragør, don't forget to visit the old fortress and view the Øresund Bridge to Sweden. Also, you must bring some bread for all the ducks, birds and swans along the harbor front. It's the Danish thing to do! This is a great way to experience a bit of "old denmark".

8. Transport
Here is one of the Copenhagen Sights, that you won't hear about in tourist guides. When in Denmark, make it a point to try the various types of public transportation. It is not only something new for most people, but it is fun and a great way to sightsee. First, try riding the bus - a good line to try is Line 15 to Østerbro or 26 towards Faergehavn Nord from the main train station. You can then catch many of the sights of Copenhagen since it circles the town, passing many of the popular tourist sites.
If on Line 15, get off at Østerport Station and if on Line 26 get off at Indiakaj and walk over to Langelinie, which is just a few minutes' walk to the east. Just ask the bus driver to let you off near Langelinie. You could also get off the bus and take the same bus line back to where you started or choose a tourist area you wish to visit along the route. This is free with your Copenhagen Card, so take advantage of it.

Other bus lines will also take you to places like Dyrehaven, which is my next favorite attraction. (See next section.) Ask at the tourist office about which bus lines you need to take to get to any of the above attractions. Depending on where you are starting from, the information I give you may not be best suited for you. You'll also want to try the harbor bus. This is not the same as the canal boats. These are run by Movia (the bus company) and they make several stops along the harbor. A good place to catch a harbor bus is at the Kongelige Bibliotek (black building on the harbor) or the Opera House (another fascinating Copenhagen sights). These are yellow boats and you use a normal bus ticket on them.Also, don't forget to ride the metro and the trains. With one bus ticket you can try them all – as long as you do it all within the allotted time period. Just remember to be aware of your travel zones.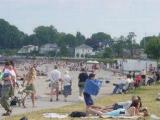 9. Klampenborg / Dyrehaven
Here is another of my favorite Copenhagen sights, which is just outside the city, but well worth the short trek. Take the train to Klampenborg station and you have two great attractions at your doorstep. You can head over to the beach, there you will find Bellevue Strand, which is a very popular beach. It is not very large, but it is a nice place to enjoy a summer's day.
The other option is Jaegersborg Dyrehave, which has several attractions. Dyrehave is a former royal hunting area, which has been turned into one of Denmark's favorite picnic areas. With over 1000 hectares of woodland, the park is filled with wildlife (mostly deer). There are numerous walking paths and places to enjoy nature. There are bike paths, horse riding trails and picnic areas.
Within the park you will also find Bakken and the Eremitagen Manor Home. The Eremitagen is at the center of the park and most trails will take you there. It is there that you will spot most of the deer.
Bakken is an amusement park that has no entrance fee – yea! – (neither does the park), but you will pay to ride the various rides. There are also usually some children's shows and various restaurants and carnival-type stalls. It's a very popular place with the young.
10.Øresund Bridge
Again, this is not actually classified as one of Copenhagen sights, but it is something you should see. Take a day trip to Malmö in Sweden. (Not that I believe Malmö is that exciting, but you should experience the trip over Øresund Bridge.) Trains leave from the main station 2 to 3 times an hour and the cost is around 150 kroner round trip, depending on the type of ticket you get. The experience of going across the open water is fantastic. The bridge is a marvel of engineering. You can read more about the bridge by clicking on the photo to the right.
FYI Back in 2000, I walked across the bridge with a bunch of friends just after its completion. To be one of the first people to cross the new bridge, to experience the opening celebrations and enjoy the thrill of being in the middle of Øresund looking over the sides of the bridge was just awe-inspiring and WHAT FUN WE HAD! It was a great day, but, boy, were we tired. It is a long walk to Sweden – take the train!
Well, there you have it, my top 10 Copenhagen sights you should see while in Copenhagen. Of course, there is much more to see and do. Below are some other great attractions which might tickle your fancy. Of course, if you are planning on staying in Copenhagen for a while, you should check out all these places, plus spend time exploring places that are not known as tourist attractions.
Here is a list of Copenhagen sights museums - large and small - everyone can find something that will tickle their fancy on this list. Or just click on the State Museum pic on the right.
Enjoy Copenhagen. It is a wonderful city.
Charlie
Or you can return to the Copenhagen Home Page.
If you found this page helpful, please give a google+ and or a facebook like at the top of the screen, so others can also find this information. Thank you.
Please feel free to comment on this subject
Do you have a helpful tip or comment on this subject that you would like to share? Please leave comments below.