Enjoy a Copenhagen Christmas
Copenhagen Christmas officially begins with the opening of Tivoli's Christmas Market and the market at Nyhavn. Both should be on your must-visit list, especially on a nice wintry evening. The city is completely different during the holiday season and it is well worth a visit even if it is going to be very cold - especially at night.

At Nyhavn, along the harbor, you will find fabulous restaurants offering meals and drinks, while along the pier, there are 25 stalls selling all sorts of Christmas gifts. Many of the boats are lit up, lights are hung along the waterfront and the atmosphere is pure Copenhagen Christmas.
Tell the children to keep an eye out for Santa and the Christmas elves who occasionally wander along the quay. The Nyhavn market is free, open to the public and runs through the 22nd of December.
Copenhagen Christmas Shows in Tivoli Gardens
A Copenhagen Christmas is not complete until you have visited Tivoli.
Tivoli opened its doors to its annual Christmas Market on the 14th of November. The market is best experienced at night when all the lights are on and there is a chill in the air. Wander through the park, and enjoy the rides, the music and fabulous restaurants serving traditional holiday meals. (I always have a traditional meal of flaeskesteg and rodkal when I visit.)
The park is totally transformed during the Christmas season and the lights this year are even better than in previous years. There are 60+ stalls selling all sorts of Christmas gifts and food. The restaurants are all serving Christmas meals, and Santa and his elves are also in the park, posing for photos with the children. The rides are all open and many have been converted into Christmas rides. During the day the Fairy Tale Theater is in the Glass Hall showcasing performances for children. There is an illumination show at the Tivoli lake every evening on the hour. Show times vary depending on the day. At night check out these two great shows: the Crazy Cabaret and the Hip Hop Nutcracker Ballet.
Each year Tivoli hosts the English Theatre of Copenhagen's cabaret. The cabaret show is always a bit raucous with lots of audience participation. Expats and Danes always seem to rave about the shows, so get tickets early, since they do sell out quickly from past years experience.
If you buy a ticket to the show it includes free entrance into Tivoli. Shows runs from early November to the middle of January. (No shows on 23, 24, 25, 26 December and 1 & 2 January.) More information is available at the Tivoli Box Office or at Go to www.londontoast.dk.
Tickets can be purchased through Billetnet at your local post office.
There is usually other good christmas shows running at Tivoli. Get more information via the Tivoli Box office.
Tivoli charges a general admission fee of 110 kroner for adults and 60 for children. The Christmas season starts mid November to the 30th of December (closed on the 24th and 25th of December).
There are also ice skating rinks in Kongens Nytorv and other places around town, so bring your ice skates along and have some fun on the ice.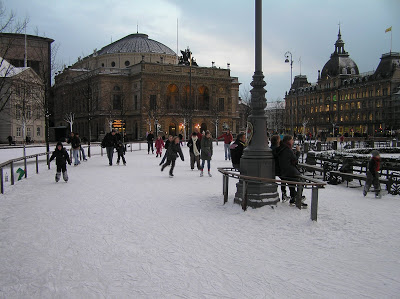 Along the Strøget, NyHavn and in Tivoli, you will come across vendors selling roasted almonds and they are a real treat on a cold night. Also do not forget to try the funnel cakes, æbleskiver, gløgg and other tasty Christmas fare.
If planning a visit to Copenhagen in the next few weeks, make sure to include Nyhavn and Tivoli in your plans. Also, plan to dress warmly - winter has come and it is a bit nippy - especially at night.
Partake of a traditional Christmas meal at your favorite restaurant - Flæskesteg og rødkål with brun kartoffler. Yummy! Don't forget your Tuborg or Carlsberg beer.

Glaedelig Jul til alle!
Return from Copenhagen Christmas to Main Christmas Page
If you found this page helpful, please give a google+ and or a facebook like at the top of the screen, so others can also find this information. Thank you.
Please feel free to comment on this subject
Do you have a helpful tip or comment on this subject that you would like to share? Please leave comments below.