Copenhagen Hotels
Wonderful Wonderful Copenhagen Hotels, what a great assortment there is. (this should be sung to the melody of the WWC.

Copenhagen has such a great variety of hotels, that it is hard to list the best hotels, since each person will have their own tastes. Below are some guidelines finding the right hotel for you.

If you have a personal favorite, please let others know by leaving a comment below. 
When searching for Copenhagen hotels, it is best to divide your search criteria into 3 categories: price, location and amenities. Even though Copenhagen is not a large city and you can easily get across town by foot, you do not wish to be dragging a suitcase across cobblestone streets more than is necessary. Trust me on this.
If you looking for pure convenience, where price and amenities are not an issue than you want to book in the central of the city. Anywhere around the Radhuspladsen, Kongens Nytorv or Nørreport Station and you are pretty much within walking distance of most of your attractions, restaurants and museums. There are no Copenhagen hotels which are close to ALL of them, but getting around town is quick and easy. Learn more about that here.
Pros: You are close to most things and do not need to use buses or trains to get about. A good pair of walking shoes and you have Copenhagen at your doorstep. Cons: The drawback of being in this area is that there is a lot of traffic, hotel, nightlife noise and most hotels are not designed to keep this noise out.
So if you choose this area, make sure you try to pick a more modern hotel that has compensated for this. Many people complain about the train noise, when they stay at hotels at the main station and near the train tracks.  Remember these Copenhagen hotels are VERY convenient to most of the things a tourist is looking for in Copenhagen.
Staying in one of the Copenhagen hotels outside the center of the city will offer you a better price, quieter neighborhoods and often more modern amenities. Lots of new hotels have opened up over the past few years in neighborhoods like Vesterbro, Nørrebro, Østerbro and Sydhavn. 
These are all areas that are making vast improvements and hotels are being built to accommodate the increasing number of visitors to the city. Pros: The advantage here is the prices are lower, rooms are more modern, amenities are often better.  Cons: You do have to travel further to reach many of the places you wish to visit. Most of these hotels are located so far out that public transport or taxis are needed to get into the city center. This can easily be covered with the Copenhagen Card or a single ticket (cheapest ticket available) will let you travel in 2 zones for example Zone 1 & 2 and Zone 1 & 3.
For those willing to travel a bit further out, than you will find lots of good hotels out by the airport, Amager and Ørestad (zone 3), which is the area between the airport and Copenhagen.
There are also hotels located north along the coastline which are lovely and offer a more tranquil setting, yet there you are best off having a car or at least willing to take taxis from hotels to the train stations. Some of these are smaller hotels and are often less expensive than your Copenhagen hotels. These will be located in smaller suburbs, which may interest those who are visiting family in those areas or business meetings.  These will be found in Zones 3,30s, 4 and 40s.
If you look at the post codes of the hotels you can figure out their location. Anything in the 1000 to 1473 are located in the city center. 1500 to 1799 are the areas located in the Vesterbro. From 1800 to 2000 are in Frederiksberg (zone 2) 2100 are located in Østerbro.
City Center Copenhagen Hotels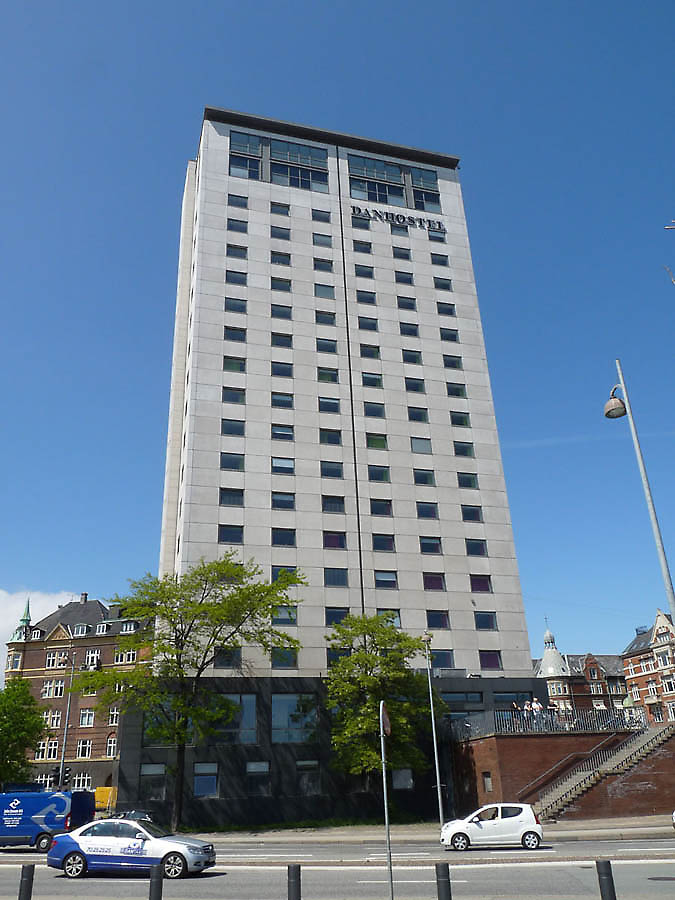 I have included several Copenhagen hotels in each category and varios areas to consider and why. For the budget traveler, the best hotel is going to be the DanHostel Copenhagen City located on HC Andersens Boulevard, right next to the harbor. This is a high rise building, which has over a 1000 beds, dorm style. So you usually end up sharing a room with complete strangers. It is inexpensive and has lots of amenities including computer rooms, tv rooms, self catering kitchens, laundry, book swap, cafe and much more. Very popular so book early.
For a bit more private quarters, but still at reasonable prices, try the area to the west of the train station on Istegade and the surrounding side streets. There are several decent hotels like the Sleep Inn, Saga Hotel, Nebo, Backpackers Hotel, Absalon, etc..
Pros: Prices are the lowest in the central part of town.  Next to main train station, behind the new and upcoming trendy area of the city with lots of bars and restaurants. Cons: The area is a bit seedy, especially at night, where you will find drug addicts hanging out, drug prostitutes plying their trade. Many of the hotels also have very small rooms, usually shared bathrooms and can be a bit noisy. But if trying to be frugal and can live with the "special ambiance" - it is an area full of decent Copenhagen hotels for the budget minded. The area if perfectly safe, but the ambiance is sometimes "off putting" for some.

For those with a bit more to spend and wanting a bit of modern luxury, I would suggest one of these Copenhagen hotels: The Wake Up Hotel. There are 3 of them in the Copenhagen area and they are new and modern. Rooms are a bit small, yet a good price for a modern hotel. There is one near Amalienborg Castle on Borgergade 9 and another on the harbor at Carsten Nieburhs Gade 11. Have stayed at the one on the harbor and it was pretty good and the rate was very reasonable.
Another good hotel is the Richmond Hotel, a bit older, but still nice. Was once one of the premiere hotels in Copenhagen. Hotel Østerport is also nice and convenient. Small hotel located directly across from Østerport Station. Some people do say that there is a lot of train noise, but it is new, clean and very convenient. Another of my favorite hotels in this category is the DGI Byens Hotel, which is right next the main station. This is good hotel for a traveler and someone who is also into fitness since there is a large indoor swimming pool and sauna facilities.
Finally if you like high end modern hotels than there are plenty of them to choose from.  Here it is often a matter of taste, which one you decide to choose. On top of my list   has to be the Crowne Plaza Copenhagen Towers, which was built in 2009 and is the first carbon neutral hotel in the Denmark.  The ultra modern sleek design, innovative environmentally aspects and convenience makes this a front runner for any busines traveler or tourist. Being GREEN has never been so scrumptious and elegant. Great harbor view too!
For those with deep pockets, there is nothing better than  the classic d'Angleterre Hotel which has been the host to many heads of state and celebrities galore over the years. As Denmark's premier 5 star hotel it is pure old fashion luxury with wonderful service. When you stay at the d'Angleterre, you will feel like a star. From the fresh cut flowers in your room to ultimate discretion, you will be hard pressed to find a place that caters more to their guests.
Located right off Kongens Nytorv, the heart of Copenhagen.  Recently it was completely renovated.
The new Tivoli Hotel is another first class hotel designed for the family. In relationship with Tivoli, this hotel is fun, quirky and perfect for children and families. Includes entrance to Tivoli and transportation back and forth to the park. My only draw back to this hotel is that it is located close to the main train station tracks and the view out front is not that pleasing. Inside is marvellous, so maybe not worth mentioning but feels a bit wrong for me.
The Marriott on Kalvbod and Raddison Blu Downtown are also great hotels that are modern and have all the amenities you could want in a hotel. Would choose the Marriott for class and style, while the Raddison is a bit dated, yet has the best location of all the Copenhagen Hotels directly across from Tivoli and the main station. Close to everything - perfect location.

 Copenhagen Hotels outside  City Center

There are also some great Copenhagen hotels outside the city center, yet close enough to get into the city center. I will just list a few of the ones to try out, that I think will appeal to a broad audience.
The hotel which I have loved staying at most is the Radisson Blu on Amager Bouledvard. This is a first class hotel with very nice rooms (Denmark standards), great views and lots of amenities including the casino downstairs off the lobby. It is about a 10-15 minute walk into the city center or can take a quick taxi ride or the bus stops in front of the hotel.
A fun quirky hotel is Copenhagen Living, which is a house boat on the harbour! Yes this is a great hotel, with a good reputation and people love the thrill of staying on a house boat. There is a restaurant next door and it is a quite place and just over the bridge is the city center. 5 minute walk. I have yet to stay there but plan to on my next overnight - waiting for better weather.
At the airport, you can not go wrong with the Radisson Airport. If you would like to travel north along the coast, make sure to check out Kurhotel Skodsborg, just south of Vedbæk. Situated right on the coast, very nice place to stay. Spa facilities are available. This is more of a resort hotel and very relaxing place to stay.
For the convention goer, the Bella Sky Hotel next to the Bella Convention Center is unique, stylish and perfect convention hotel.  Even has some special rooms for women designed with special amenities. Floor used to be "exclusively female occupation only" until 2 disgruntled males wanted to protest and got it overruled.  A shame ,since security for women should be something that all men want for their loved ones. Still a good choice even if a bit out of town.

These are just a few of the great Copenhagen hotels. Check out the booking.com link on the right side of the page. There you can check out the reviews of each hotel that interests you and than check the location of each hotel. Remember to look at map and see about public transportation if staying outside the city. Anywhere in the city, you are probably less than 500 meters from a bus or train.  Enjoy your stay in Copenhagen

If you found this page helpful, please give a google+ and or a facebook like at the top of the screen, so others can also find this information. Thank you.
Please feel free to comment on this subject
Do you have a helpful tip or comment on this subject that you would like to share? Please leave comments below.