A Danish Christmas
Every country has its own way of celebrating the Christmas season, and Denmark is no exception. To quote Hans Christian Andersen, a Danish Christmas is "magnificent, quite unforgettably magnificent".
Most Danes go all out when it comes to planning and celebrating Christmas, or Jul.
Below are a few things you should do to celebrate a true Dansk Jul..
1. Advent Sunday:
The four Sundays preceding Christmas are called Advent Sundays, and it is traditional to create a wreath that contains four candles (Adventkrans - see photo). The first of the four Advent wreath candles is lit on the fourth Sunday. On the following Sundays an additional candle is lit. So on the second Sunday, two candles are lit. On the last Sunday, all four candles should be lit.
2. Christmas Candle:
On December 1st, it is customary for children to light a tall calendar candle, which has the 24 days of Xmas printed at intervals along the candle. Each day the children burn one of the 24 sections that mark the number of days until the 24th.
3. Advent Calendar:
Another tradition is the Advent calendar. There are various forms of these calendars- usually it is a cloth wall hangings with dates sewn into them or fancy cardboard houses, which have a door/window for each of the 24 days before Jul. Each day children will open a door to find a surprise or small gift. Some families may use a tapestry with small gifts hanging from 24 hooks, and each day children are allowed to open a small gift. Depending on the family and budget, some may several of these at the same time.

4. Decorations:
In Denmark, decorations are a major part of the holidays, and the Danes take this part very seriously.
As for the tree, many families like to choose and chop down their own tree – there are many ads in the newspapers about places where you can go to do just that.
Unlike in America and the UK, the tree is usually not put up until Little Christmas Eve (December 23). Some people will have their trees standing outside the home until that time.
Homes are also decorated inside with lights and candles. Many of the "outdoor lighting traditions" of America are now taking hold in some Danish homes. In places, you can now see large lawn displays and houses lit up with hundreds of lights. The streets are usually decorated with lots of warm white lights and strolling through town is very Christmas-sy!.

A more traditional form of decoration starts early in the month of December, when the house is decorated with "nisse", garland, candles, tinsel and mobiles. Later in the month, families may enjoy a favorite activity, a "cut-and-paste" afternoon, where friends arrive with colored paper, scissors and glue to make traditional cones, angels, birds, baskets and hearts for the tree.
These are items that will be hung on the tree and often filled with sweets, nuts and other assorted edibles. After all the activity, there will be something good to eat!
So remember, if you are invited to participate in such an event, say "YES!"; it is a great way to learn how to make some very intricate and fun decorations.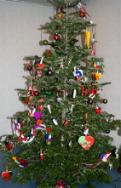 5. Little Christmas Eve:
Little Christmas Eve is held on December 23rd and is an eagerly awaited holiday event. Usually, a simple evening meal of warm rice porridge (Risengrød) topped with cinnamon-sugar and butter is served. Children love Risengrød and it is usually only served on the 23rd!

6. Christmas Eve:
Instead of holding Christmas on December 25th in the morning as in America and UK, it is traditional to celebrate it on the evening of the 24th. Many Danes will attend church services that day before starting their feast around 1800. See more information below on the traditional celebration.
7. December 25th:

On December 25th, friends and family gather for a huge lunch that usually continues for several hours. Good food is accompanied by beer and snaps. A similar gathering is often planned for Boxing Day, December 26th. It is also very common to see many Danes out enjoying a walk (even in the snow) to help them recover from all the food!
There is much more to a traditional Danish celebration, and it can only be really appreciated by being invited to one and participating in all the fun, food and joviality of a Dansk Jul!
8. The Office Party:
This is the season of office parties, better known as julefrokost. This translates as Christmas lunch and is usually held in the daytime versus evening. That is not to say, that a lot of these events are also held in the evening hours. Restaurants are usually booked full during the holiday season with these fests.
You can be invited to many of these, since they start in late November and run into late December. There is usually one for work, one for your union, another with friends, etc.
The meal usually consists of traditional Danish fare like roasted pork, red cabbage, potatoes, traditional Danish Christmas dessert- Risalamond. But the most important is Danish beer and akavit.
9. Christmas Markets:
There are Christmas markets all over Denmark and one of the best is the one in Tivoli Gardens, where there is a real feel of a Dansk Jul. Small stalls sell Danish gifts, decorations and best of all roasted almonds! Yummy. There are ones at Nyhavn and many other places. Just check the local papers and you will see many of them and they are really nice to go to and get in the holiday mood.
10. If you are in Copenhagen, a very popular expat tradition (not so much Danish) is to go to the annual Crazy Christmas Cabaret held by Vivienne McKee and her group of zany comedic actors held in Tivoli. Only been once, but it was very funny.
Christmas Eve
Christmas is celebrated on the evening of December 24th, with a delicious meal of roast goose or pork, accompanied by red cabbage and boiled potatoes with gravy. After dinner, everyone heads in to see the tree.
The tree is usually not seen by the children until after dinner, and it is an eagerly anticipated event. The tree has been decorated with the paper hearts and cones (now filled with treats) made by the children. Candles have been lit and placed carefully on the tree, tinsel hangs like strands of silver hair, and a beautiful star sits atop the tree. Everyone joins hands to dance and sing around the tree -- clockwise for one song and then counter-clockwise for the next one. There are several traditional songs that are sung – the most traditional is probably Højt fra træets grønne top, You can learn all these Christmas Songs and Traditional Danish Caroles.
Once all the singing and dancing is finished, everyone settles down to open the beautifully wrapped gifts. One person is nominated to be the "giver" and hands out the gifts to all those present. Gifts are opened one at a time and the event can last hours.
After the gifts are opened, Danes will return to the table for dessert, which is a bowl of Ris a la Mande, or rice pudding. The pudding has lots of crushed almonds in it, but there is one whole almond hidden in the serving bowl. Individual servings are doled out, and the person who finds the whole almond wins a gift. The prize is usually a marzipan pig (very popular), signifying good luck for the coming year; other small gifts can also be used.
Although the custom has waned through the years, some Danes still put a small dish of porridge in the attic for the "nisse", a bearded, elf-like creature. The nisse was known as a household spirit who controlled domestic fortunes, so the porridge was put out to stay on his good side for the coming year.
Christmas Treats
The stores during the holidays have lots of Christmas fare, which you will not find outside the season. You should give some of these a try.
Gløgg, which is a warn mulled wine with raisins and almonds. I still make mine from scratch, but you can also get a mixed packet with ingredients that you add to your mulled wine. Very good on these cold winter days.
Æbleskiver, which are small dough balls that are made in a special skillet, but you can also get them premade and just warm them in an oven. Served with strawberry jam and powedered sugar. Wonderful treats.
Jul Cookies: You can usually find Danish cookies all year round, but during December they come out with brun kager (brown cookies, pebernødder (pepper nuts) and assorted other holiday cookies. Best to eat the homemade versions, but store bought can be good too.
Risalamande and Risengrød, which are two different types of rice puddings. Does not sound good, but really they are a wonderful dessert and served at all Xmas dinners. A must have. Adding the cherry sauce on top or cinnamon and sugar makes them real treats. Not easy to make, so pick them up at the store.
You can see some of the recipes at Danish Recipes. They are all in Danish, so you may to translate.
Roasted Pork / Flæskesteg, which is a very traditional main course. Roasted Duck is also very popular.
Roasted almonds is another treat and you will find lots of vendors all over Denmark during December. Pick up a bag and enjoy a fantastic treat.
All I can say, this can be a very fattening time for most Danes, but the food is SO GOOD, I have a hard time resisting filling up. There is always January to lose the extra weight put on. Have fun.
If you found this page helpful, please give a google+ and or a facebook like at the top of the screen, so others can also find this information. Thank you.
Please feel free to comment on this subject
Do you have a helpful tip or comment on this subject that you would like to share? Please leave comments below.
What Other Visitors Have Said
Click below to see contributions from other visitors to this page...

Searching for Danish Christmas Markets Not rated yet
I would just like to say THANK YOU for this site. I came across it by accident when searching for Christmas markets & you have so much useful information. …