Copenhagen Denmark
The capitol of Denmark is Copenhagen, (København) which is the largest city in Denmark with a population of over 2 million residents. It is also the largest city in Northern Europe, making it a popuar place for tourists and business.
Copenhagen lies on the east coast of Zealand (known as Sjælland in Danish). On a clear day, you can see the west coast of Sweden and get there quickly via the Oresund Bridge. The city dates back to 1000 AD, but it was not until Bishop Absalon in 1167 built a fortress and established København as the largest city in the region. This helped the city grow both in size and importance.
When Christian IV ruled, the city got some of its most historical buildings including the Stock Exchange (Børsen), Rosenberg Castle (Rosenberg Slot) and the Round Tower (Rundtårn).Many others was also built, but a succession of large fires over the years have destroyed many of the early buildings. In 1728 the first great fire destroyed 1640 buildings, followed by the fire of 1794 which destroyed Christianborg among many other buildings. The following year (1795) another fire took nearly 1000 homes, a quarter of Copenhagen.
Many of the buildings were rebuilt only to be destroyed during the bombardment by the British in 1801 and 1807. During the 1850s Copenhagen started to really expand and new areas like Vesterbro, Norrebro and Østerbro sprang up and ever since has been steadily expanding. Even with all the damage that København has suffered over the years, the city still has nearly 700 historical listed buildings within the city limits.Many of the buildings have been rebuilt 3 or 4 times over due to the fires and wars.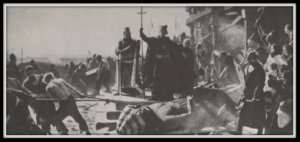 Today, it is more than the capitol of Denmark; it is a very hip city packed with hundreds of restaurants and cafes. To the locals, it is known as København. (kew-pin-hown).
It is a major port and business center for Northern Europe. Even though it is the largest city in Denmark, you can quite easily get around the city on foot. Exploring is just a matter of having a good pair of walking shoes.
Modern Copenhagen
Copenhagen central is located south of the 5 seas and north of the harbour (sydhavn/inderhaven). Within this small area you will find Tivoli, Strøget, Christianborg, Amalienborg, Nyhavn, Børsen, Rundtårn, Rosenborg, Botanisk Have (Botanical Gardens), musuems, university, library, Rådhuspladsen and so many other sites.
Copenhagen has more to offer than just the city center. Wandering a bit west, north or south, you can explore places like Vesterbro, Nørrebro and Østerbro, which are residential areas. Across the harbour you can visit Holmen, Amager, Islands Brygge and Ørestad. Easily accessible by public transport, bicycle or on foot.
During the summer, it is well worth enjoying the harbour and Nyhavn or one of the local beaches. Nightime offers an array of restaurants, nightclubs, casinos, amusement parks and concerts. You will find something to satisfy your taste.
You can view my list of top Denmark attractions or make up your own.
First Time Visitors to Copenhagen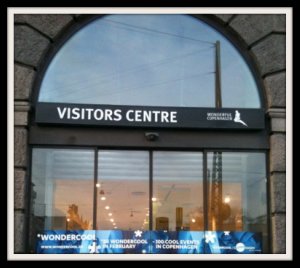 If you are visiting for the first time, you need to make one essential stop and that is the Tourist Office, which is located on the northeast corner of Vesterbrogade and Bernstorffsgade.
To locate the tourist office look for the large "I" sign. The office is to the right of the SAS Hotel, across Vesterbrogade (north of) from Tivoli. There is a small coffee shop/bakery in front of the office. Just go through the doors and you will see the tourist office. Watch your step. You can either walk around and get tourist information or get assistance. If you need city guides and information, you can pick up the information on the shelves for free. (There are a few things that cost, so if you see a price sticker on something it is not FREE. This is usually books.)
Important Tip: If you need to talk to someone behind the counter, you need to take a number. Please do not walk up to the counter and stand in line. This is frowned upon and you will be told to get a number.
There are ticket machines at the top of the stairs (2 steps up). Take a number and then wait for the screen to show your number and than head up to the desk when your number is displayed.
If you do not have a place to stay yet, the tourist office can find you a hotel, hostel, home stay or other type of accommodation.
You want to pick up 3 things. All are FREE.
A map of the city. (get the fold out one so it is large enough to see the street names)
Copenhagen This Week This is a small booklet that tells you what is presently going on in the city. You can check out the calendar and see what is happening, plus there are lots of tips and advice.
The Copenhagen Post, which is the only Danish Newspaper written in English. This is nice to have to get current with what is in the news in Denmark.With these 3 items in hand you can plan your visit to Copenhagen. There are lots of brochures available, but you will drown in paper if you collect everything. Be selective in what you collect. Please remember to recycle anything you do not want to take home with you.
Download a copy of the Copenhagen This Week
You can also read the latest abbreviated version of Copenhagen Post
If you are arriving by cruise ship, make sure and check out Walking to My Cruise Ship to get helpful directions and information. Below you will find 3 links/photos below to help you find your way around København. Just click on the photo to take you to your preferred page.
The first link/photo is for a list of city hotels, the second is for a list of tourist sights in the area and the final is for a list of restaurants in København.