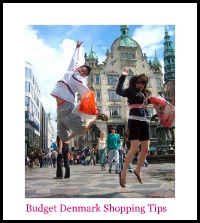 Budget Denmark Offers

The Budget Denmark page is just a continuation of my budget denmark idea pages , but wanted a seperate page where I could list some my localized ideas for expats living in Denmark. That does not mean that you can not find some great ideas here to use while visiting Denmark.
This is a complilation of promotions and coupons that you can use for a short period of time. Some of the promotions may require you to fill out some forms to get the prize or gift certificate, while others are contests where you can win some pretty good gifts. While others are just plain simple to use coupons or discounts.
I am not able to try out all these promotions myself, so you are on your own to try them and see if they are right for you. Remember any "FREE" gift will usually not include postage, so make sure you are willing to pay for postage before deciding on the "FREE" item.
Have received some pretty good "FREE" stuff in the mail lately and have not had a bad experience. Please let FYI Denmark know if you find a promotion that does not live up to its promises and we will remove it from our list.
Since these pages are all in Danish, use google translate to translate anything you do not understand.
Remember in Denmark, you have to right to return anything you buy if you are not satisfied with the product and get a full refund. The law in Denmark does favor the consumer.
So let's get started and see what is available for the savvy consumer. If you have any others that you discover, let us know and we will try to include them here.

---
1. Budget Denmark Offer #1: INK CLUB
Buying Ink Catridges in Denmark is very expensive, so when you find a company giving it away, you surely do not want to pass up on that offer. Check out Ink Club (which I personally use). They have a great special offer for new customers and their normal prices are impossible to beat in any store in Denmark.
Their cartridges are of good quality and have never had a problem with any of their merchandise. Click on the ad below. You can also try iBob below. Have yet to buy from them, but there prices are good.
3. Budget Denmark Tip Join a Trade Union

If you are working in Denmark, you should conside being part of an A-Kasse, which is basically an unemployment fund and trade union in one. If you lose your job or have problems at work, they will assist you in solving work problems and also assure you get paid if layed off or fired. Here are 3 good offers to get you started. Good deal!

4. Budget Denmark Earn Money: If you have children who plays sports or you would just like to help support your local sports clubs, than you can do something for yourself and them, which will cost you nothing. Order an OK gas card and than everytime you fill up your tank (which you have pay for anyway) use your card and a portion of your total will go to your local club. Nice way to help out without having to pay out extra out of your pocket.

Budget Denmark Surveys
Denmark has a large selection of contests and competition, where you can win free gifts or discount offers by doing surveys or filling out questionaires. Before beginning on any of these you want to read the rules. Any rules that you can not understand, use google translate to clarify.
Some of the offers are straight forward, answers some questions, get the gift. Usually a small postage and handling fee. See it is worth paying that for the gift you receive. It usually isa good deal or it would not be offered.
At other times, you may need to subscribe to a service. Check out the cancellation policy. Remember in Denmark, you have the right to cancel within 14 days. I have not checked out all these surveys personally, so if you do decide to try one, let us know how they go. Last year we did get the shaving cream and razor offer, which was quite good. Also got socks, a couple of data disks. Never had any problem canceling my membership and kept a few of them that we use on occaission.
Remember, I am not advocating doing surveys, but you can get a lot of nice goodies and some people seem to really thrive on this type of interaction. It costs nothing to do the surveys, so it is up to you if you want to try them.  Below are 17 new surveys for 2014 and there are some great prizes and offers available.
Rules are that you must be living in Denmark and understand the questions in Danish. You can answer some of them in English, but the multiple choice ones are in Danish.
So what are you waiting for - dive in and have some fun!
Quick and Easy Loans
Starting out in Denmark can be expensive and getting a loan from your bank may prove a bit tough, so here are some options for getting a loan to tide you over. Always check the rates and conditions before accepting the loans. Most of these places require that you are employed and have a CPR number before accepting your application.

Books and Magazines
A great way to learn and improve your Danish is to read books and magazines. I find it more interesting to read Danish books or magazines that cater to my interests. This way I am better equipped to talk about my hobbies and interests with Danes using the proper words. I subscribe to a few Danish magazines and they really do help with my Danish, but also keep me up to date with the latest information. Here are some subscriptions that may interest you including lots of free gifts and good rates.
OBS: I personally got the Gør Det Selv subscription and love the magazine!

If you found this page helpful, please give a google+ and or a facebook like at the top of the screen, so others can also find this information. Thank you.

Please feel free to comment on this subject
Do you have a helpful tip or comment on this subject that you would like to share? Please leave comments below.